Theatre & Festival Shows
ARC
Inspired by a character that sees the world through mathematics and solves equations through movement, the choreography was created in the reverse: deriving choreography from interpreted equations, specifically those in Dr. Stefan Hutzler's paper on Newton's Cradle. Using interactive software and wearable motion-tracking devices, the projections are created and performed in real-time by visual artist Petko Tanchev.
Neverneverland
Peterpan's adventures before he met Wendy.
This show for all ages is set on a tall ship in Neverland, the place where no one grows up. With local children being incorporated into the show, they help catch a mermaid and get captured by Captain hook. Peterpan and Captain Hook battle it out with daring aerial acrobatics on rigged ropes, while Tinkerbell sneakily releases the children who then triumphantly trap Captain Hook in their net. In celebration, Tinkerbell and Tigerlily take to the sky in a duo silks performance on grand floating silks, and are joined by Peterpan and Tinkerbell jumping, flipping, and dancing up and down the ships's horizontal yards for the finale while Hook struggles in the hanging net below.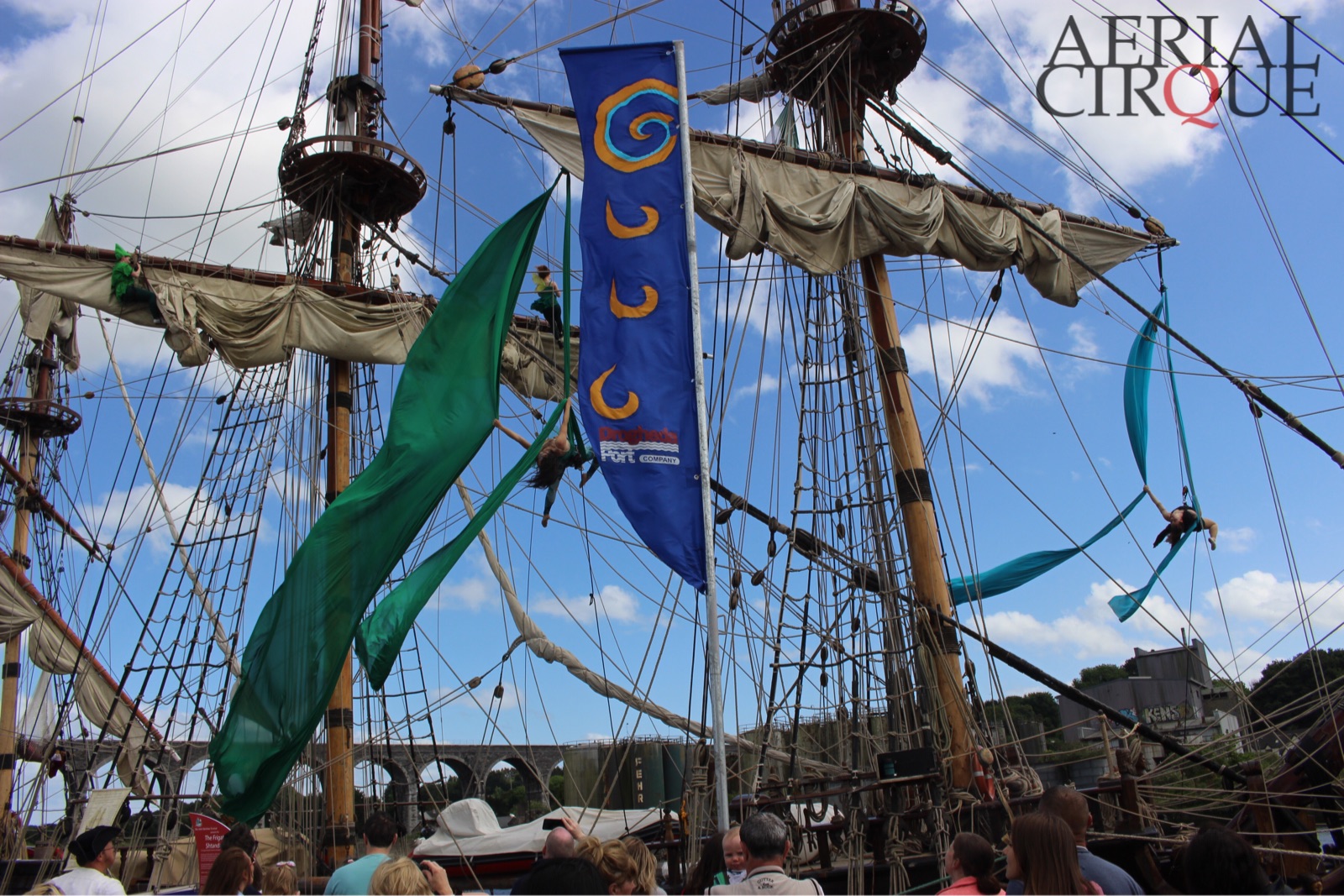 Black Pitch Pitch Black
A beautiful intersection of one woman's psyche and varying time scales.
This one woman show recently premiered at Tiger Dublin Fringe to a sell-out audience. its sell-out show at Tiger Dublin Fringe in September 2016.
Accompanied by only the pitch drop experiment, Marie delves deeper into her seclusion as she waits year after year for the fall of her dark companion. The pitch preoccupies her every waking hour, possessing her mind and calling into question the unsettling subjectivity of time through moments of psychosis where the very core of her reality is brought into question.
Set in a dilapidated Victorian building in the heart of Dublin's Creative Quarter, this new aerial theatre performance explores a young woman's psyche. Her story is taken to the air by one of Ireland's leading aerial silks artists, Ria Murphy.
This one woman show recently premiered at Tiger Dublin Fringe to a sell-out audience. its sell-out show at Tiger Dublin Fringe in September 2016.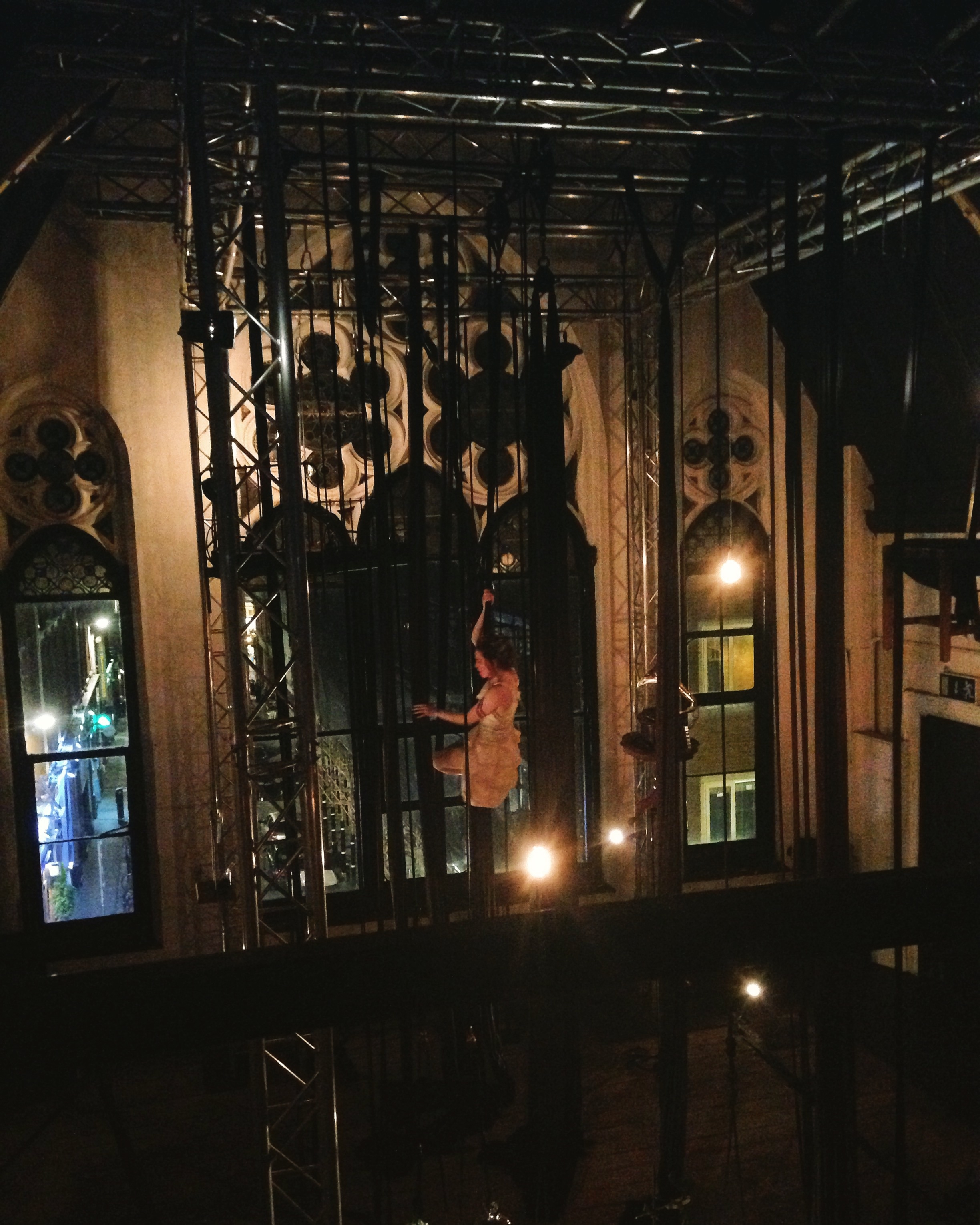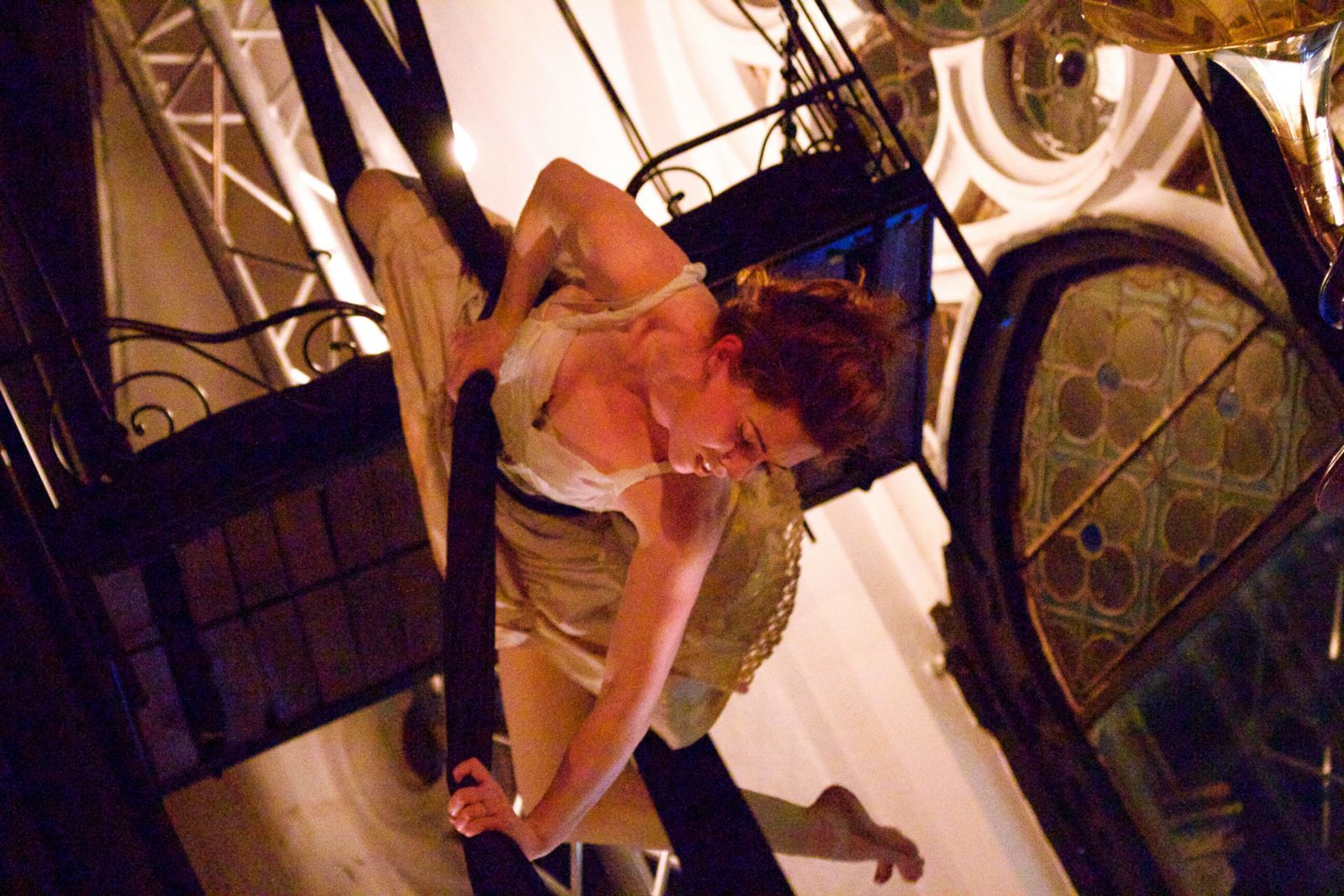 Angst
a vertical dance performance, performed by any number of dancers on the side of a building.
This piece was created by Ria Murphy, during the Unlocked Artists Residency at the IACC and funded by the Arts Council Ireland.
The Acrobat and the Flea
Inspired by the analogy of string theory, an installation of different dimensions.
Inspired by the analogy of string theory, the Acrobat and the Flea is an installation of different dimensions.
In this performance installation, vertical dancers float and flip from one side of a massive hanging canvas to the other. As they run, they pass a ball of string between them. They stand on the wall, as you would the ground, their perspectives ever changing as they move throughout our three dimensions, making them unfamiliar. Up is no longer true, no longer relevant, their gravity changes depending on on the length of the rope, and so they become surreal to the audience. While the audience watch these other worldly dancers fasten straight paths of strings collectively take on the image of a curve, they're left mesmerised and challenged to think that there's more than one way to get from A to Flea.
Workshop
A 50 minute workshop for children is also included at no extra cost with this performance. In this workshop, children come together to construct a giant string art piece on the grass similar to the one the vertical dancers make up on on wall.