Our Story
Based above Dunnes on Exchequer Street in Dublin City Centre, Aerial Cirque is a home for budding and professional aerialists. We teach adult and children's aerial classes and provides stunning high end aerial performances for festivals, corporate events, launches, night clubs, runways, weddings, and more.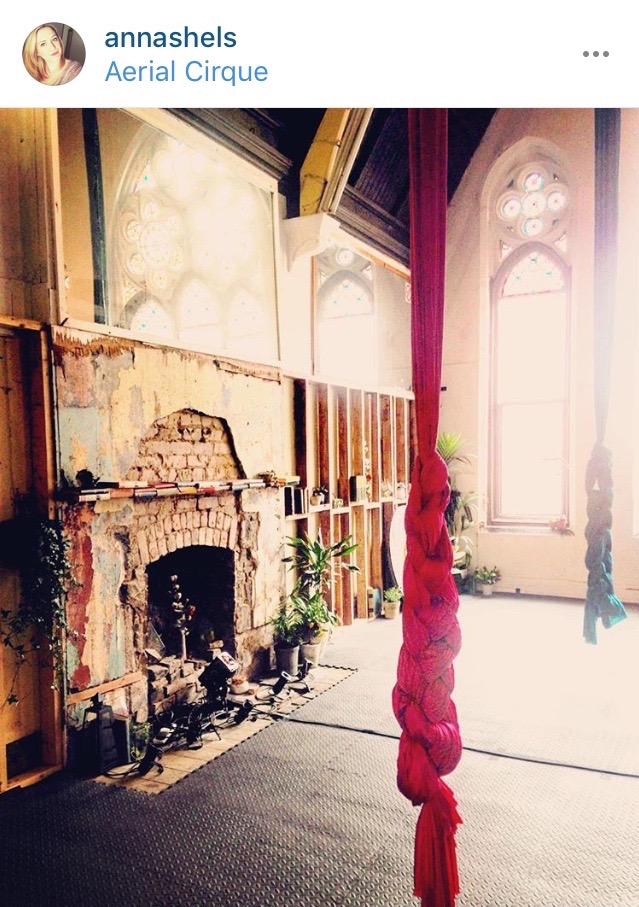 We have a beautiful studio on Exchequer Street in an old dilapidated Victorian building. It needed a lot of love and care when we took it over, and that's exactly what we gave it. For me, the studio itself is a work of art. From exposing the decades through rainbows of plaster to discovering a fireplace and finding old buttons between the century old tongue and groove floor boards, the studio continues to inspire me to create and choreograph. It's a constant project that we're working on, so don't be surprised if it looks a bit different from the last time you came to visit.
-Ria Murphy
The Students
Check out our students who have been with us awhile and took part in our student showcase at the Aerial Cirque studio in May 2016. The student showcase consists of group performances choreographed by Ria Murphy and mentored solo acts.
We have something for everyone and welcome all levels! Never done aerial before? Not a problem! Check out what people have gotten up to in their first session during our Taster Workshop.
Aerial Cirque was founded by Ria Murphy, an actress and international aerial performer born in Belfast, raised in California. While studying biochemistry and theatre at UC San Diego, Ria fell in love with the aerial arts while seeing a production of Cirque du Soleil. With continuing to hold such a juxtaposition of interests, Ria's creations are often inspired by scientific theories or experiments. She has performed throughout Japan, Mexico, Costa Rica, Canada, the US, the UK, and Ireland. View Ria's aerial CV for more info.
Prior to opening up an aerial studio in Dublin, Ria worked as a producer, creating documentaries and travel shows broadcasting on Discovery, Travel Channel, HBO-Latin America, and PBS amongst others. Some of her favourite projects included Globe Trekker, Great Australian Hikes and Our Summer in Tehran. With the skills acquired while producing large international productions, Ria continues to create and produce shows for festivals, theatre, and high end corporate events with Aerial Cirque.
Drawing from her past life as a biochemist, Ria's current personal work focuses on gathering biometric data of the vertical dancer and transforming the collection to generate visuals created in real time. The visuals are projection mapped onto the building upon which the dancer is suspended. Externalising the internal (the mind, body, heart), the two interact with one another creating a feedback loop.